Features of PowerTicker - Briefly
PowerTicker contains many features for the modern-day stock trader including:
Manage and automatically calculate the current value of your portfolio.
View all of your stocks, funds, indexes, and currencies
Get the story behind your stock's rise or dive from news headlines.
Track currency exchange rates and convert the value of your international holdings.
Create and customize multiple tickers, and an unlimited number of portfolios.
Set sound alerts to keep you informed.
Surf safely through firewalls and proxy servers, at work or at home.
Run PowerTicker on both Macintosh and Windows computers.
International Securities
PowerTicker gives you access to all major international exchanges and stock indexes. If you can't find your favorite stock through PowerTicker, please let us know and we'll work it into the next release.
Simple Searches
If you're unsure of the symbol for the stock you want to track, PowerTicker's lookup function can quickly search through extensive databases of company names, indexes, and funds.
Customizable Tickers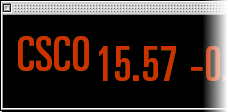 PowerTicker supports up to sixteen scrolling tickers. You choose what stocks you want to see in each and how much information you want to display. Put your tickers anywhere you want on your screen, behind the scenes or floating over your applications. Make them as large or as small as you want. Choose your fonts. Choose your colours.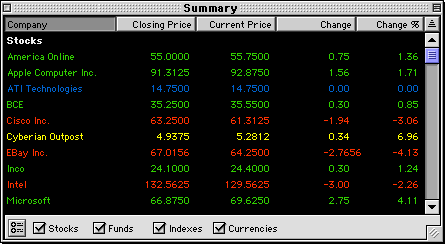 Or keep things simple with a single stock summary that tabulates the value of every security you're currently tracking in a clear, concise report.
Stock-specific news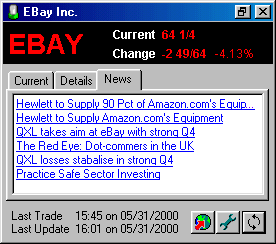 Get the story behind your stock's rise or fall from the news headlines for every stock in your portfolio, plus a quick link to the full story on the Web.
Quick Access to the Web
PowerTicker works with your browser to bring you more information when you need it. Click on the links for access to historical data and graphs. Investigate the unique content on the financial websites we track. Or configure PowerTicker to jump to your favorite trading site at the click of a button.
Currency Exchange
PowerTicker tracks international currencies to bring you the latest exchange rates. Your international holdings are automatically converted and displayed in your portfolio in your currency of choice.
Customizable Alerts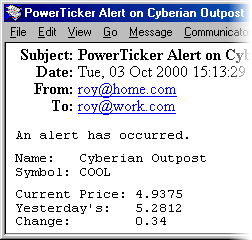 Avoid a meltdown or seize a great buying opportunity with PowerTicker's customizable alerts. Set your price parameters, then choose PowerTicker to set off alarms or send you e-mail, even to your phone or wireless device!
With PowerTicker, you can set global alerts to watch for price fluctuations anywhere in your portfolio, or you can set specific buy and sell triggers for individual stocks. And when you want to trade, go to your favorite trading site with a single click!
AppleScript
Macintosh users can use AppleScript to automatically import PowerTicker data into other applications and documents.
Privacy and security
With PowerTicker, your portfolio is your business. Keep your data safe with password protection, where you want it, on your computer. Web-based services leave you vulnerable to prying eyes. Why take a chance with your money? PowerTicker keeps you secure.
At work or home
PowerTicker lets you surf safely through firewalls and proxy servers, at work and at home.